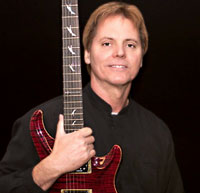 BRAD CARLTON - Brad Carlton, the guitarist who gives new meaning to the word versatility, is your host for CAGED Cracked, where he breaks down the concepts earned from years of study into a system that gives structure to improvisation.

Brad Carlton, who has been teaching and leading his own bands for more than 20 years, is widely recognized for his versatility and musicianship. He can brilliantly performs an extensive lesson on Eddie Van Halen licks, an exploration of London blues, along with interpretations of Vernon Reid, Jeff Beck, Eric Clapton, Mike Stern and even classical guitar.

If you've been looking for a way to open up your improvisations and expand your knowledge of the fretboard, CAGED Cracked is the key to unlock the potential of both you and your guitar.